As technology makes information and communication increasingly accessible, the devices used to text with friends and loved ones and stream videos is actually harming people's spines, creating a more prehistoric posture. Excessively tilting the head to look down at a smartphone has created a condition known as "text neck", in which the weight of the skull puts stress on the cervical and thoracic spine (neck and upper back), as reported by The Washington Post.


-----------------------------------------------------------------------------------
Los Angeles orthopedic spine surgeon Sanjay Khurana discusses research that indicates that smartphones and laptops are contributing to painful spine conditions in children and teenagers.

-----------------------------------------------------------------------------------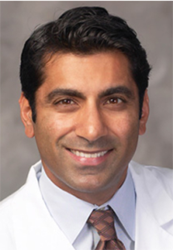 "Placing a substantial amount of weight on the spine at such an early age can interfere with spinal development and require medical intervention at an earlier age," said Dr. Khurana
---------------------------------------------------------------------------------------------------------------
"It's becoming unfortunately common to find young children suffering from neck and back conditions that don't normally occur until around age 30 or older," said Dr. Sanjay Khurana, Director of Los Angeles Spine Group. "Children and teenagers are now developing disc bulges, bone spurs, or other painful issues all from straining to lean forward to use their cell phones."


The spine is designed to bear a significant amount of weight, but the vertebrae and spinal discs often begin to wear down over time. However, poor posture and strain can contribute to quicker degeneration at different areas of the spine. The human head can weigh around 12 pounds, but the physical strain on the neck increases as the head is tilted forward – at a 60 degree tilt, the weight can cause a 60 pound strain, according to a research study published in the National Library of Medicine.


"When you spend two hours or more putting 60 pounds of strain on your neck each day, it's not surprising that the neck and back can become damaged," added Dr. Khurana. "Considering children and even teenagers are still growing, placing a substantial amount of weight on the spine at such an early age can interfere with spinal development and require medical intervention at an earlier age."


Poor posture and leaning the head forward for several hours a week can cause other health issues, as well, such as depression and chronic headaches, which can weaken the body and make it predisposed to injuries.


"It's important that parents and children of all ages understand the dangers of burying your head in your smartphone for hours on end," continued Dr. Khurana. "In order to protect your neck and back, you have to take breaks and you have to keep a healthy posture. If pain, tingling or discomfort occurs, it can be detrimental to ignore those symptoms. Seek a medical exam to help identify the problems and begin an effective treatment plan sooner rather than later."


Dr. Sanjay Khurana is a board-certified and fellowship trained pediatric and adult orthopedic spine surgeon in Los Angeles. He specializes in minimally invasive and robotic spine surgery procedures with an emphasis on degenerative disc disease, herniated disc, spinal stenosis, scoliosis and spinal deformity, spinal instability, spine trauma, spine tumors and spondylolisthesis. Dr. Khurana completed his undergraduate degree at the University of California at Berkeley and his medical school and orthopedic surgery residency at The Stanford University School of Medicine. Dr. Khurana completed his combined orthopedic and neurosurgical training at the prestigious University of Miami / Jackson Memorial spine fellowship under the mentorship of Dr. Frank Eismont and Dr. Barth Green.


Source : PRWEB , 3rd Nov 2015