With her team facing match point in a grueling, five-set volleyball contest in early September, Lampeter-Strasburg senior Becca Cohen raced after a wayward pass toward the sideline.
She bumped the ball diagonally across her body, sending it cross-court off the top of the net and over to the other side. The ball landed out of bounds, however, resulting in the Pioneers' first loss of the season.
Instinctively, Emma Cohen —likewise a senior and the Pioneers' setter — walked over and gave Becca an appreciative pat on the back.
The gesture is not unusual for teammates, let alone teammates who happen to be sisters. Yet for someone who is not even a year removed from spinal fusion surgery, a simple pat on the back can put the game of volleyball into a rather unique perspective.

During a routine physical prior to the 2016 school year, Becca, 16, learned she had an atypical curvature of the spine known as scoliosis.
According to Genetics Home Reference, a website run by the U.S. National Library of Medicine, adolescent idiopathic scoliosis is the most common cause of spinal abnormalities in children and teens, affecting 2 to 3 percent of youth in the United States.
Although not all instances require surgery, scoliosis in its progressive form occurs more commonly in girls, with both genetic and environmental factors believed to play a role.
In Becca's case, the diagnosis was surprisingly sudden, considering she had previously undergone screenings for scoliosis due to a genetic history of the condition on her father's side of the family.

"We had always been checking since we were younger because my grandma had it, and I had been fine up to then," Becca said. "(In 2016) when I bent over, my back, the one side was elevated."

At that point, Becca already had a 50-degree curve in her lower back, with a smaller, compensatory curve in her upper back.

"We talked to the surgeon at DuPont and basically I was going to need surgery at some point because it was going to continually progress," Becca explained. "We just thought it was best to do when I was young and could recover easily."

Along with her parents, Saul and JoAnn Cohen, and with input from her guidance counselor at Lampeter-Strasburg, Becca elected to have surgery following the end of volleyball season in her junior year.

Performed the day after Thanksgiving at the Nemours Alfred I. duPont Hospital for Children in Wilmington, Delaware, the surgery —termed posterior spinal fusion with instrumentation — combined both the fusion of vertebrae and the insertion of a pair of titanium rods to straighten and stabilize the lower curve.

Incredibly, Becca was discharged from the hospital just three days later.

"I was amazed, incrementally how much better she got," JoAnn Cohen said. "But the first two weeks were pretty hard. When she came home, she couldn't roll over by herself in bed. When she wanted to move, I had to physically help her roll. That only took another night until she could kind of do it on her own."

"My mom stayed with me every day at the hospital. She slept over there," Becca recalled. "My dad came up with my siblings; they talked to me and distracted me. It was nice to have them there. When I got back to the house, my mom was always right there if I needed anything. I couldn't have gone through this without her."

Becca's grandmother underwent one of the first "Harrington Rod" surgeries, performed by Dr. Paul Harrington in the late 1950s. That method did not involve spinal fusion, however, and due to complications, she spent six months in a body cast.
"I talked to her more and found out about the body cast and how tough her experience was," Becca said. "I was glad that I wasn't going to have to go through what she did, but it was comforting to know that she understood what I was going through."
In the same way that her grandmother's experience provided context for her own, Becca's experience offers context for her younger brother, who battles scoliosis, as well, and wears a back brace to hopefully negate the need for surgery later on.
"I feel bad for him because he's going through a different experience than I had to, with bracing," Becca said.
But athleticism, particularly on the volleyball court, also seems to run in the Cohen family. Saul and JoAnn met while playing volleyball in Atlantic City; JoAnn still plays the sport, coaches at the middle school level and is president of the booster club.
Emma started playing volleyball regularly when she was 12 years old and Becca followed suit. Five years later, both players serve as captains on Lampeter-Strasburg's team along with fellow senior Hailey Hildenbrand.
"(Becca is) a little more organized, and I make sure everything is still loose and everyone is having fun," Emma said of the shared captaincy. "She's very smart. You can see that even playing volleyball. I always know where I'm supposed to be; she always knows where she's supposed to be and everyone else on the court."
Becca began physical therapy about six weeks after surgery to help rebuild and strengthen her back muscles. After about four months, she began practicing volleyball again with Emma's club team and in open gyms.
In that time, Becca added an inch to her 5-foot-10 frame as a result of the surgery. She doesn't generally experience pain, but can sometimes feel the surgery's effects. "It doesn't inhibit anything," she said. "I have a little less mobility with twisting and some of that, but I'm pretty much playing the same as I used to."
Becca returned to game action last June in the Pottstown Rumble doubles tournament, partnering with Pioneers' junior Alexa Troiano, who happened to be coming off her own surgery for a torn ACL.
"I've been friends with Alexa for so long, so it was nice to get out and play with her," Becca said. "It was raining that day so we were both a little nervous, but it was just nice to be playing the sport I love again. I think we both felt that way."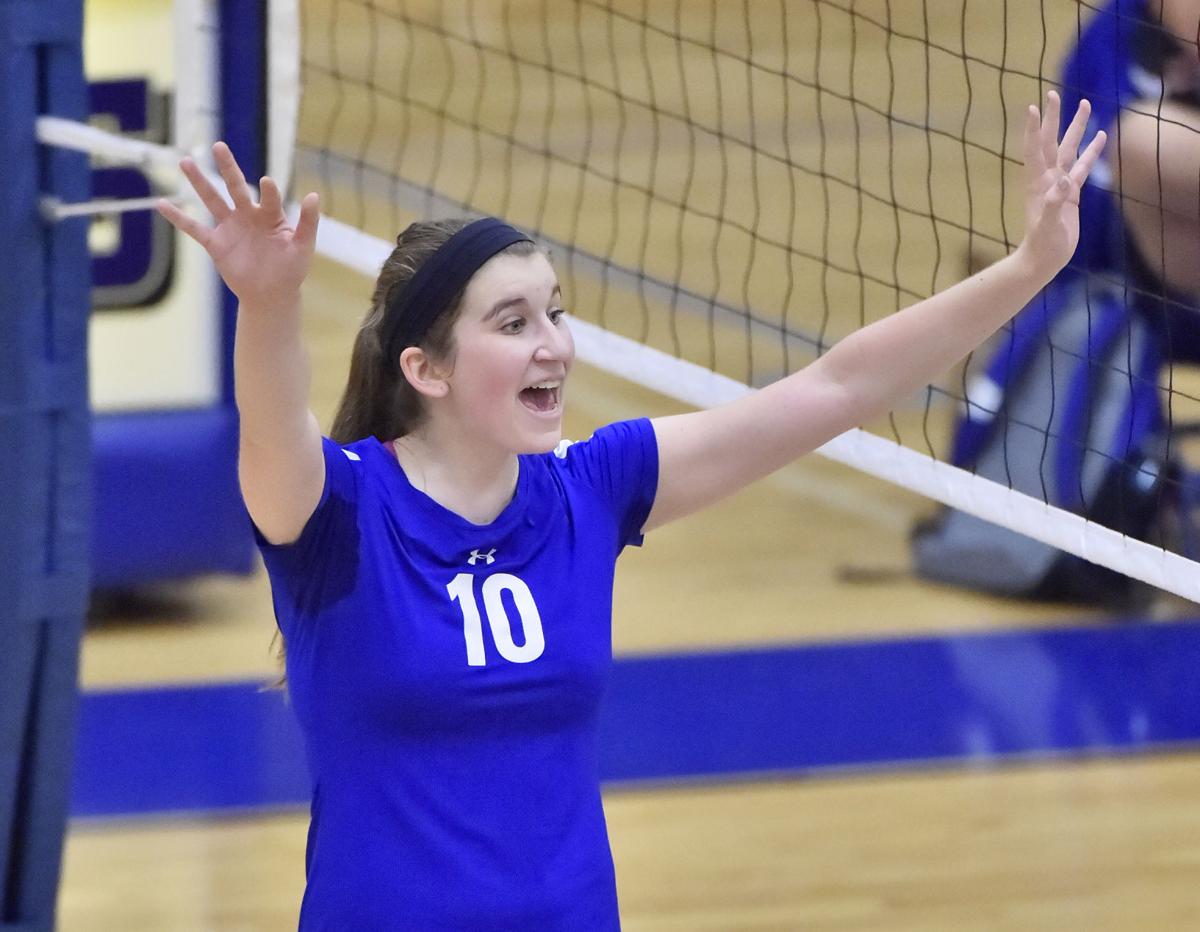 In the meantime, keeping up with school work and her social life wasn't terribly difficult for the straight-A student. Having tested out of the seventh grade — she will still be just 16 years old when she graduates high school — Becca and Emma have shared the same circle of friends for quite a while.
That partly explains their mutual desire to attend different colleges next year. While Emma is looking to be the fourth generation of her family to attend Penn State, Becca is considering Georgetown or Pitt, where she hopes to study medicine.
"I've always been good at math and science," Becca said. "Watching 'Grey's Anatomy' sparked my interest in medicine and being a doctor. Then going through this experience, seeing how much the doctors and the nurses influenced me and how much they helped me, that really got me interested."
Whatever paths Emma and Becca take, volleyball will keep them linked, even if they aren't seeking to play competitively in college.
And whether on the court, in college or in a career in medicine, Becca can be certain that her friends, her teammates, and of course, her family, will always have her back.
Source : Lancaster Online , 22nd Oct 2017